Previous Page
Omnimax Theatre
Science World, Vancouver, BC V6A 3Z7
Movieline: 1-(604)-443-7443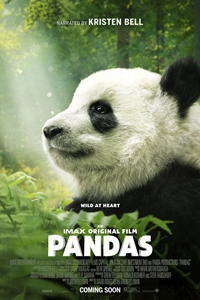 Pandas: The IMAX 2D Experience (G)
Cast: Kristen Bell
Runtime: 40 mins.

Pandas are beloved around the world, and now they are coming to the big screen in the IMAX® original film "Pandas," a breathtaking documentary adventure and amazing experience for the whole family. At Chengdu Panda Base in China, scientists are dedicated to protecting the species by breeding adult Giant Pandas in order to introduce cubs into the wild. This film follows one such researcher, whose passion leads her to initiate a new technique inspired by a black bear program in rural New Hampshire. What starts as a cross-culture collaboration becomes a life-changing journey for an American biologist who crosses an ocean to join her; a scientist from Inner Mongolia; and a very curious female cub named Qian Qian, born in captivity. Captured with IMAX® Cameras, join Qian Qian on an exciting new adventure in the mountains of Sichuan as she takes her first steps outside her protected habitat, discovering her true animal nature... even as she faces the challenges of the unknown.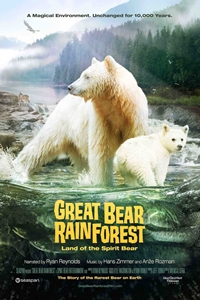 Great Bear Rainforest: The IMAX 2D Experience (NR)
Cast: Ryan Reynolds
Runtime: 41 mins.

Journey to a land of grizzlies, coastal wolves, sea otters and the all-white spirit bear - the rarest bear on earth - in the film "Great Bear Rainforest". Hidden from the outside world, the Great Bear Rainforest is one of the wildest places left on earth. Found on Canada's remote Pacific coast, it is the last intact temperate rainforest in the world a place protected by the region's indigenous people for millennia. Now, for the first time ever, experience this magical world in IMAX and giant screen theatres, and discover the land of the spirit bear.
Presented in IMAX
12:00 PM
,
2:00 PM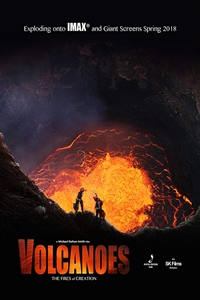 Volcanoes: The Fires of Creation IMAX ()


With over 500 active volcanoes, the Earth is bursting at the seams with these forces of mass construction. The story of volcanoes is the story of the planet's creation and the story of us. With intrepid explorer Carsten Peter, dodge boulders at the edge of an active volcano in Indonesia, descend to a lava lake in Vanuatu and visit incredible acid ponds, geysers and mineral deposit fields in Ethiopia. Travel across the globe to see the archeological ghost town of Pompeii, hydrothermal vents at the bottom of the ocean and witness the devastating effects of the 2018 Kilauea eruption in Hawaii.