Previous Page
Park Theatre
3440 Cambie Street, Vancouver, BC V5Z 2W8
Movieline: 1-(604)-709-3456
Website: http://cineplex.com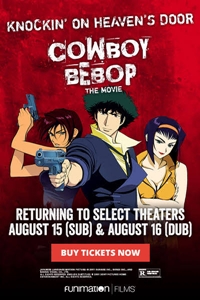 Cowboy Bebop: The Movie - Knockin' On Heaven's Door ()
Cast: Koichi Yamadera, Unsho Isizuka
Runtime: 1 hr. 54 mins.

Explore the far reaches of the galaxy in this undeniably hip series that inspired a generation - and redefined anime as an indisputable art form. The Bebop crew is just trying to make a buck. This motely lot of intergalactic loners teams up to track down fugitives and turn them in for cold hard cash. Spike is a hero whose cool fašade hides a dark and deadly past. The pilot Jet is a bruiser of a brute who can't wait to collect the next bounty. Faye Valentine is a femme fatale prone to breaking hearts and separating fools from their money. Along for the ride are the brilliant, but weird, hacker Ed and a super-genius Welsh Corgi named Ein. On their own, any one of them is likely to get lost in the sprawl of space, but together, they're they most entertaining gang of bounty hunters in the year 2071.
Maquia: When the Promised Flower Blooms ()
Cast: Manaka Iwami, Miyu Irino
Runtime: 1 hr. 55 mins.

Though only 15, Maquia knows she will live for centuries without aging past adolescence. She belongs to the Iorph, a clan of ageless beings just like her. Maquia's elders warn her not to fall in love with anyone outside their realm, lest she wish to encounter true loneliness in the end. But fate pushes Maquia out into the mortal world one night, when an invading territory separates her from the clan. There she discovers an orphaned baby, Erial, and takes him in as her own child. From this point, Maquia will suffer extreme heartbreak in the name of motherhood, as she watches Erial grow and seeks to reconnect with her lost Iorph friends, all torn apart by the cruel world of Mesate.
Japanese w/e.s.t.