Previous Page
PFC's Limelight Cinema
1416 Cornwall Avenue, Bellingham, WA 98225
Movieline: 1-(360)-738-0735
Website: http://www.pickfordfilmcenter.org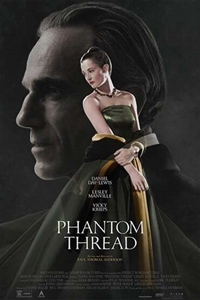 Phantom Thread (R)
Cast: Daniel Day-Lewis, Lesley Manville
Runtime: 2 hr. 10 mins.

Set in the glamour of 1950's post-war London, renowned dressmaker Reynolds Woodcock (Daniel Day-Lewis) and his sister Cyril (Lesley Manville) are at the center of British fashion, dressing royalty, movie stars, heiresses, socialites, debutants and dames with the distinct style of The House of Woodcock. Women come and go through Woodcock's life, providing the confirmed bachelor with inspiration and companionship, until he comes across a young, strong-willed woman, Alma (Vicky Krieps), who soon becomes a fixture in his life as his muse and lover. Once controlled and planned, he finds his carefully tailored life disrupted by love. With his latest film, Paul Thomas Anderson paints an illuminating portrait both of an artist on a creative journey, and the women who keep his world running. "Phantom Thread" is Paul Thomas Anderson's eighth movie, and his second collaboration with Daniel Day-Lewis.
The Other Side of Hope (Toivon tuolla puolen) ()
Cast: Sherwan Haji, Sakari Kuosmanen
Runtime: 1 hr. 38 mins.

This wry, melancholic comedy from Aki Kaurismäki, a clear-eyed response to the current refugee crisis, follows two people searching for a place to call home. Displaced Syrian Khaled (Sherwan Haji) lands in Helsinki as a stowaway; meanwhile, middle-aged salesman Wikström (Sakari Kuosmanen) leaves behind his wife and job and buys a conspicuously unprofitable seafood restaurant. After Khaled is denied asylum, he decides not to return to Aleppo—and the paths of the two men cross fortuitously. As deadpan as the best of the director's work, and with a deep well of empathy for its down-but-not-out characters (many of them played by members of Kaurismäki's ever-reliable stock company), The Other Side of Hope is a bittersweet tale of human kindness in the face of official indifference.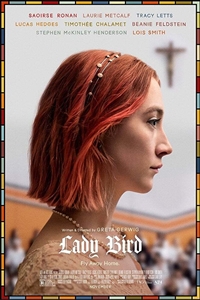 Lady Bird (R)
Cast: Saoirse Ronan, Laurie Metcalf
Runtime: 1 hr. 33 mins.

The relationship comedy stars Saoirse Ronan as Christine McPherson, a rebellious student at a conservative Catholic Sacramento high school who wants to escape her family and small town constraints to go to college in New York.