Previous Page
Rio Theatre
1660 East Broadway at Commercial, Vancouver, BC V5N 1W1
Movieline: 1-(604)-878-3456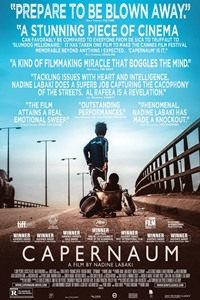 Capernaum (CapharnaŁm) (R)
Cast: Zain Alrafeea, Yordanos Shifera
Runtime: 2 hr. 30 mins.

Winner of the Grand Jury Prize at the Cannes Film Festival, Nadine Labaki's CAPERNAUM ("Chaos") tells the story of Zain (Zain Al Rafeea), a Lebanese boy who sues his parents for the "crime" of giving him life. CAPERNAUM follows Zain, a gutsy streetwise child as he flees his negligent parents, survives through his wits on the streets, takes care of Ethiopian refugee Rahil (Yordanos Shiferaw) and her baby son, Yonas (Boluwatife Treasure Bankole), being jailed for a crime, and finally, seeks justice in a courtroom. CAPERNAUM was made with a cast of non-professionals playing characters whose lives closely parallel their own. Following her script, Labaki placed her performers in scenes and asked them to react spontaneously with their own words and gestures. When the non-actors's instincts diverged from the written script, Labaki adapted the screenplay to follow them. While steeped in the quiet routines of ordinary people, CAPERNAUM is a film with an expansive palette: without warning it can ignite with emotional intensity, surprise with unexpected tenderness, and inspire with flashes of poetic imagery. Although it is set in the depths of a society's systematic inhumanity, CAPERNAUM is ultimately a hopeful film that stirs the heart as deeply as it cries out for action.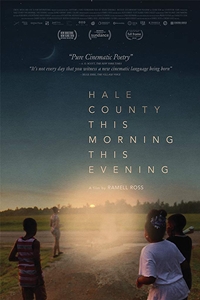 Hale County This Morning, This Evening ()
Cast: Quincy Bryant, Daniel Collins
Runtime: 1 hr. 16 mins.

An inspired and intimate portrait of a place and its people, HALE COUNTY THIS MORNING, THIS EVENING looks at the lives of Daniel Collins and Quincy Bryant, two young African American men from rural Hale County, Alabama, over the course of five years. Collins attends college in search of opportunity while Bryant becomes a father to an energetic son. The film observes the interstices of their lives, but as it unfolds, the audience will experience the mundane and monumental, birth and death, the quotidian and the sublime. These moments combine to communicate the region's deep culture and provide glimpses of the complex ways the African American community's collective image is integrated into America's visual imagination.